Bai Tu Long cruises

DELUXE CRUISES

GINGER CRUISE
190 $
PARADISE CRUISE
270 $
JASMINE CRUISE
190 $
VIOLET CRUISE
268 $
BHAYA CRUISE
195 $

SUPERIOR CRUISES

VICTORY CRUISE
175 $
EMERAUDE CRUISE
178 $
INDOCHINA SAILS
200 $
EMOTION CRUISE
170 $
DRAGON PEARL CRUISE
150 $
CALYPSO CRUISE
109 $
WHITE DOLPHIN CRUISE
168 $
PALOMA CRUISE
170 $
CLASSIC SAIL CRUISE
128 $

MIDRANGE CRUISES

HUONG HAI CRUISE
100 $
HAI LONG CRUISE
104 $
BAI THO CRUISE
106 $
ORIENTAL SAILS CRUISE
105 $
AMBER GOLD CRUISE
88 $
PHOENIX CRUISE
115 $
BAI TU LONG CRUISE
98 $
SPICE CRUISE
120 $
BIEN NGOC CRUISE
102 $
ANNAM CRUISE
115 $

PRIVATE CRUISES

LIFE HERITAGE CRUISE
$
LEGEND CRUISE
$
HELIOS CRUISE
$
PRINCE CRUISE
$
PEARLY SEA CRUISE
$
LAGOON EXPLORER
$
---
Bai Tu Long bay
Bai Tu Long bay is located just next to famous Halong bay, and is considered as ideal place for nature lovers in Vietnam, the bay has over 1000 islands in all shapes and sizes as well as mountain grottoes and hidden lagoons formed by nature over thousands of years, most of the islands still preserve the wild natural beauty and less known to visitors.

Bai Tu Long Tours company organizes inclusive tours and excursions to attractive areas in Bai Tu Long bay such as Quan Lan, Ngoc Vung and Co To islands, travelers will have a chance to enjoy the spectacular scenery, experience daily life of local fishermen living on floating houses, relax on the white sandy beaches of Cat Ba archipelago and explore the untouched Lan Ha bay. We also offer a wide range of boat cruises in Halong and Bai Tu Long bay from mid range to deluxe. Most trips last 2 to 3 days overnight on board the cruisers. Whether passengers want to have a family private cruise or a join group tour or a package day trip we are pleased to support.

BAI TU LONG BAY TOURS
Bai Tu Long bay 1 day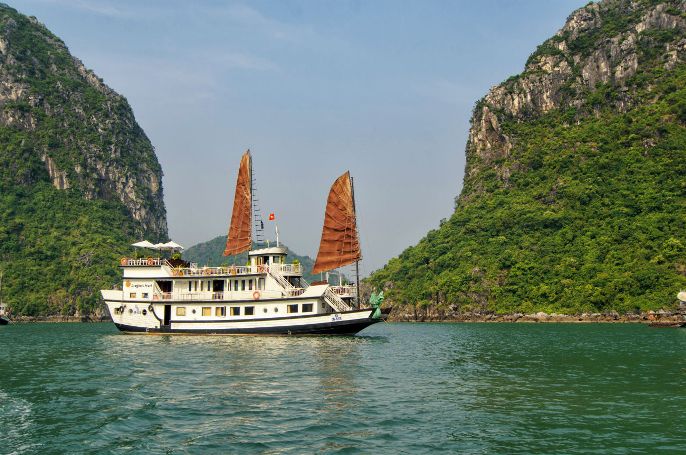 Jump on board for a private cruise, sail around amid the maze of limestone karsts jutting out from the ocean, visit Heavenly cave and discover floating fishing village, swimming in the crystal clear water...

Bai Tu Long bay discovery 2 days
Get off the beaten track and venture into an area with hidden caves and magical rock formations, discover relics of the ancient trading port Van Don, enjoy the wild natural beauty of Bai Tu Long bay and remote islands...

Bai Tu Long - Quan Lan - Cai Rong 3 days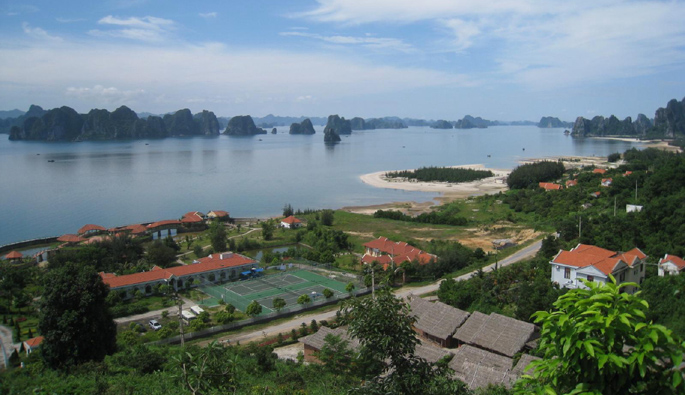 Cycling along village paths, relax at stunning beaches, scenic hills, sand dunes and surroundings sprinkled with tiny villages in Quan Lan island. Explore Cai Rong fishing port in the morning...

Hanoi and Halong Bay 4 days

Discover the maze of Hanoi Old Quater 36 streets, visit Ho Chi Minh mausoleum and house on stilts, learn about Vietnam's history and culture at Temple of Literature, visit "Hanoi Hilton" Hoa Lo prison, riding a ricksaw to Dong Xuan market...

Ngoc Vung island 4 days
Ngoc Vung Island (Gem Island) is a well-known tourist attraction lying between Net Islet and Phuong Hoang (Phoenix) Island, in Van Don District. Viewed from above, Ngoc Vung looks like a beautiful velvet handkerchief with exquisite white edgings...

Hanoi city tour - Halong Bay cruise 5 days
A short vacation covering the most attractive destinations in north Vietnam, enjoy a cruise aboard deluxe junk boat, go kayaking in the hidden lagoons, visit Amazing grotto and Luon cave, take a tour of Hanoi city...

Lan Ha bay - Cat Ba island 4 days
Explore Lan Ha Bay and spend the night at special homestay, trekking through Cat Ba National Park to Viet Hai fishing village for a great experience of nature, adventure and culture combination...

---
Map of Bai Tu Long bay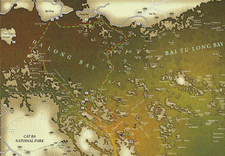 Bai Tu Long bay sights
Vung Vieng Fishing Village
Drum Cave (Hang Trong)
Cua Van- Van Gia Fishing Village
Lan Ha Bay
Bai Tu Long Bay

Coc Islet (Con Coc)
Trinh Nu Grotto
Luon Grotto
Hanh Grotto
Top hotels and resorts
Ha Long Dream Hotel
Ha Long Plaza Hotel
Heritage Halong Hotel

Mithrin Hotel Halong

Saigon Halong Hotel
BAI TU LONG BAY TOURS | HALONG TRAVEL | BAI TU LONG CRUISES